8 Simple Ways to Help Your Child Adjust to Wearing Glasses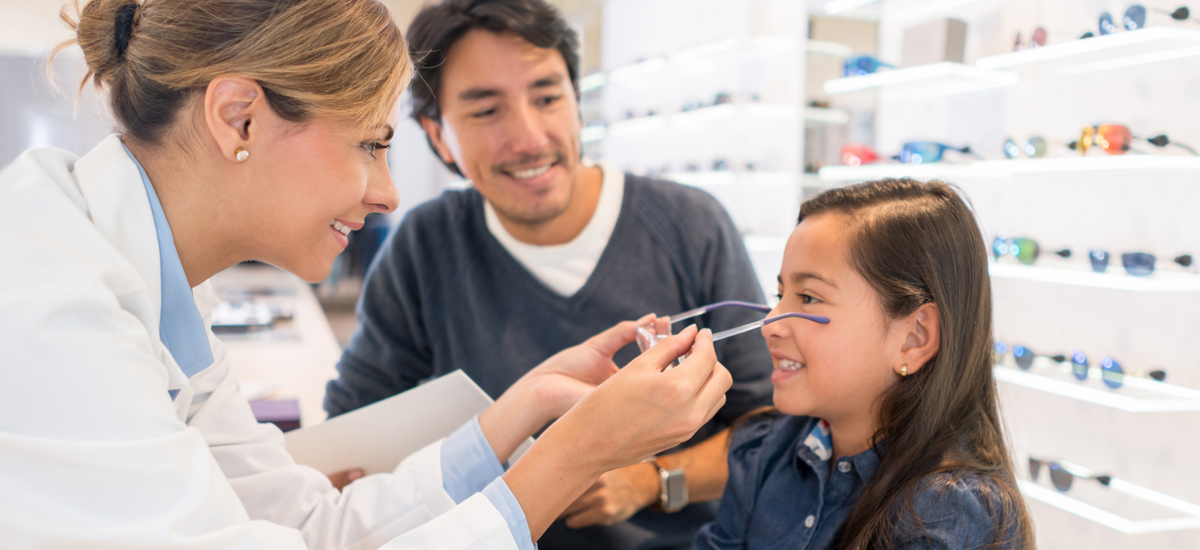 In the toddler years, your child's vision goes through many changes. That is a time for your child to hone in skills they learned when they were babies and expand on those skills.
Of course, by the time they come in for regular, annual eye exams starting at age 6 (and even before), they may complain that it's hard to see up close or far away. That can cause their eye doctor to recommend prescription glasses.
In this blog, we'll share some of the best tips and ways to help your child adjust to wearing glasses so that they feel confident in their new eyewear.
Does your child need glasses? Shop our selection of eyeglasses for kids.
Best Tips and Ways to Help Your Child Adjust to Wearing Glasses
As great as glasses are for kids, your child might be hesitant to wear glasses at first. It's possible that they don't understand how glasses will benefit their vision, or they're worried that the eyewear will cause problems at school.
Here are some of the top ways to help your child adjust to wearing glasses:
Tip #1: Give your child choices for frames and lenses.
Arguably nothing will get your child more excited about wearing glasses than letting them pick out their frames and lenses. Show them a few options in your price range. Then, let them do the rest.
Choosing their own glasses will give your child a sense of confidence that you can't replace. It will let them put their decision-making skills to work and choose a stylish pair of eyeglasses that fits their growing style.
Tip #2: Make caring for their new glasses a part of their daily routine.
The best way to adjust to something new is to make it something regular and comfortable. Time and patience are important, and teaching your child to take care of their new glasses can help with the transition.
Take the time to teach your child to clean their glasses in the morning before putting them on. Have a designated place to keep their glasses at night when they aren't wearing them. Whether it be a nice case or a glasses holder on their bedside table, this routine is a great way to help your child adjust to wearing glasses.
Tip #3: Make sure the glasses fit and are comfortable.
Uncomfortable glasses can make the adjustment much more difficult. Adjusting to symptoms of wearing new glasses can often be discouraging to a child and make them not want to wear them. Our suggestion? Be patient.
Also, ensure your child's eyewear fits and that it is comfortable to wear. If your child is athletic, verify that the glasses will stay put during physical activity. Find out more about how your child's glasses should fit here.
Tip #4: Be encouraging.
It's normal for a 7-year-old wearing glasses for the first time to be nervous. Give them a high five or words of praise. These things will encourage them and remind them that wearing glasses is a good thing.
There is an adjustment period to anything new, and positive reinforcement can help your child form good habits and adjust to wearing their new glasses with ease.
Tip #5: Show them that wearing glasses is more common than they think.
Some children are hesitant to wear glasses because they feel uncomfortable with how they look.They also may feel like glasses make them appear less cool.
If this is your child, show them pictures of young celebrities or comic-book characters who wear glasses. If a child associates glasses with someone like Clark Kent or Superman, they might feel more comfortable in them.
Tip #6: Help them understand that the glasses will make their life easier.
Remind your child that wearing glasses will help them see and improve upon their life. It isn't easy to go through the day unable to see clearly, but the glasses will help them to see and enjoy activities.
Have your child wear their glasses during their favorite activities so that they can see what a big difference it can make to be able to see well.
Tip #7: Keep the mood exciting.
Sure, your child might be new to glasses, but that doesn't mean that they're not going to like them. Sometimes, the way to get your child to wear glasses is as simple as raising the tempo in your voice to show your child how cool it is to wear glasses.
Compare it to picking out new clothes, shoes, or school supplies. Buying kids' glasses can be fun and exciting–especially when your child has a say.
Tip #8: Respond to their questions and concerns.
It takes time to adjust to glasses, especially for kids, and the chances are that your child will have questions. For instance, how long does it actually take to adjust to glasses, and do they need to wear glasses all the time?
Listen to their questions, and respond appropriately so that your child feels heard. That will make the process of adjusting to the glasses easier.
Summary: How to Help Your Child Adjust to Wearing New Glasses
We can all agree that getting your child to wear glasses can be difficult, but with patience and a routine, you will see that the transition and adjustment period will go much more smoothly.
Here are the best ways to help your child adjust to wearing glasses:
Give your child the opportunity to pick their glasses.

Create a routine to care for the glasses.

Make sure the glasses are the right size.

Use positive reinforcement to create the habit of wearing glasses.

Show your child that glasses can be cool.

Teach them that wearing glasses will improve their life.

Get excited.

Leave no questions without an answer.
Your child will be comfortable and wearing glasses happily before you know it.
This blog was originally published on November 21, 2019, and expanded in July 2022.
Shop at For Eyes for your child's next pair of glasses.
Help your kids show off their unique style, and browse our wide variety of frames from your favorite brands. Stop by your local For Eyes today, or order online at your convenience.