Shopping for new women's eyeglasses?
Try out For Eyes for the best women's eyeglasses for all of your needs. We offer a large selection of eyewear to suit whatever lifestyle you lead, as well as superior customer service and prices that won't break the bank.
Make an impression with your brand-new women's eyeglasses.
At For Eyes, we have a massive selection of brand-name eyewear at affordable prices, in addition to a helpful team that will assist you in finding the right women's eyeglasses for your everyday life. And our experts have all the fashion advice you need to look your best. The average woman has many different roles and routines in her day-to-day schedule, so your eyeglasses should be able to provide you with the quality and versatility you need and deserve. Keep reading to discover our best tips and tricks for finding the right pair of women's eyeglasses and the best frames for your busy lifestyle.
---
What popular brands of women's eyeglasses do we carry?
At For Eyes, we offer a wide variety of different brand options for our women's eyeglasses. Brand names are not only a symbol of status, but they are a great way to assure quality. We recognize that as you search for women's eyeglasses, the brands may be important to you and may help you feel more comfortable with purchasing new eyewear, so here's a quick list of some of the choices that we offer:

Gucci
Heritage
Kate Spade
Marc Jacobs
Ray-Ban
Tommy Hilfiger

Within these brands, we also have an extensive range of style options that can help you dress to impress for any occasion.
---
What frames and lenses are best for women's eyewear?
Here at For Eyes, our women's eyewear offers the type of quality you can depend on. Our team is available for any questions you may have about getting the best women's eyeglasses for your specific needs. Depending on what activities are important to you, durability may be a necessity. If so, you may want to consider frames made from heavy-duty materials, such as aluminum or titanium. Metal frames are stronger and more flexible than other materials, and they will work well for women who spend a lot of time outside or who lead active lifestyles. Plastic frames are often popular because they cost less and are lighter than metal frames. However, they are also less durable and more likely to break. If you like the feel of plastic frames and want something similar that can withstand a bit more wear and tear, try polycarbonate lenses.
Lenses can be enhanced with different coatings to maximize the functionality and lifespan of the eyewear. Among some of the most popular choices of these coatings are: blue-light protection, scratch resistance, and UV protection. Photochromic lenses are also a great option if you don't want to spend the extra money on prescription sunglasses in addition to women's eyeglasses. Our eyewear professionals at For Eyes can help you select from our many different frames and lens options to find a personalized style that suits your needs and expectations. We want to ensure that you're pleased with whatever women's eyeglasses you choose to purchase. If you find that your eyewear needs adjustments, we will be happy to accommodate you at no additional cost.
---
How can you tell what women's eyeglasses are right for you?
The most important aspect of choosing your new women's eyeglasses is to consider your own needs and features. There are tons of options available at For Eyes, but finding the right pair for you is our specialty. One thing to consider is your facial features and face shape. Your face shape can determine whether or not a pair of women's eyeglasses will fit you and emphasize the positive qualities of your overall look. Not all frames will look great on every person, and you want to make sure that you are choosing the best style for your facial structure. To identify your face shape, put your hair into a ponytail or bun to ensure you can examine your face. Once you've done that, look into a mirror, and make a note of the widest angles and features on your face. This will give you an accurate depiction of your face shape. There are several different face shapes, including:
Heart
Oval
Round
Square
Triangle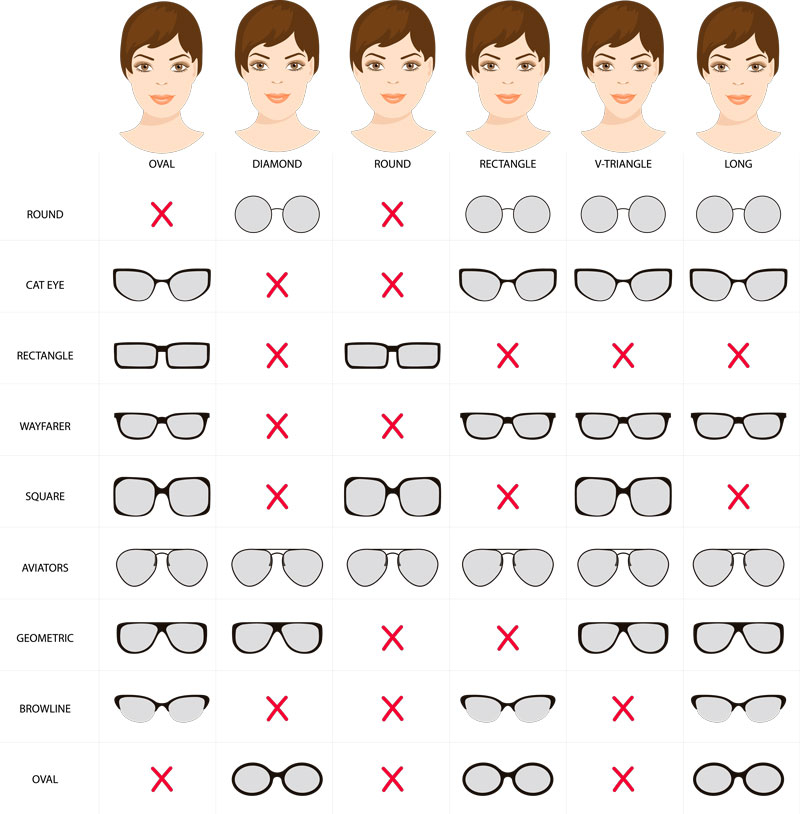 Your face shape isn't the only way to tell if a pair of women's eyeglasses is right for you. You can also pick your new eyewear based off of the style you wish to convey. If you're into sports, wraparound eyeglasses might be something to consider, for both durability and comfort. If you're more of a trendsetter and want to solidify your position as the group's fashionista, stay on top of the popular styles of today with cat-eye frames or transparent frames reminiscent of those found in the 80s. Also, keep your skin tone in mind when selecting a pair of women's eyeglasses. To check your skin tone, grab a piece of plain printer paper, and see how your skin matches up to it. If your skin looks yellow, green, or light brown, you have a warm skin tone. In contrast, if your skin looks pink or blue, that means you have cool-toned skin. Those with warmer tones will want to stick to frames with colors such as deep green, bright pink, and mustard yellow. Cooler-toned women will want to stick to soft colors, such as pastels or shades of grey. If your skin is neither warm nor cool, you are neutral-toned and should consider women's eyeglasses in monochromatic shades, such as black and white.
---
How can you create makeup looks that work with women's eyeglasses?
A common misconception that women wearing eyeglasses often have is that your eyewear can overshadow your makeup look. Despite popular belief, it is possible to create a makeup look that doesn't get overtaken by your women's eyeglasses.
One complaint women with eyeglasses have when wearing makeup is that their foundation smudges onto the frames. A way to avoid this is by blending your foundation well. Use a beauty blender or a foundation brush to ensure that your foundation is spread throughout your face, and it will not look "caked on" in any way. Avoid using excessive foundation; less is more in this case. Moisturize a bit before to make the most of the small amount you use.
Another issue women wearing eyeglasses have when pairing makeup with their frames is with mascara. To avoid getting mascara on your lenses, use a long-lasting, waterproof formula and an eyelash curler. An eyelash curler can boost the volume of your lashes, as well as stop the lashes from meeting the frames. Give closer attention to your eyeliner application and eyebrow shaping as well. Bold eyeliner looks, such as winged liner on the corner of your eyes, can attract attention and enhance the look of your eye in each lens. Your eyebrow shape makes a difference, too, as the eyebrows frame the entire makeup look and give a more finished appearance. Finally, don't be afraid to choose a bold lip color to accentuate your frames. With black, oversized frames, a red lip can go a long way and may give a more classic look. Don't be afraid to try some non-traditional lip colors, too, if you prefer a fun, contemporary appearance.
---
How should your women's eyeglasses fit?
To get the most out of your new pair of women's eyeglasses, a proper fit is vital. Not only does the fit ensure you can look your best in your new eyewear, but a poor-fitting pair of women's eyeglasses can also cause discomfort, which might mean that you won't wear your frames as often as needed. Here are some more things to keep in mind:

A proper nose fit is essential for comfort and convenience. If there's too much of a gap between the bridge and your nose, your eyeglasses may slip. If the eyeglasses are too tight around your nose, it can leave intrusive marks on your face and cause pain and discomfort. Your frames should feel comfortable on the bridge of your nose.
Don't settle for eyeglasses that rest on your cheeks. If you're someone who wears makeup often, this can cause powder and foundation to dirty your eyeglasses, as well as leave red marks on your skin. Your frames should sit comfortably on your face, not resting on your cheeks, to prevent your women's eyeglasses from lifting when you smile.
If you feel any pinching behind your ears, your temples may not be right for your face.

If you ever feel that your new pair of women's eyeglasses is uncomfortable or out of place, the eye care professionals at For Eyes can help. We are more than happy to adjust your frames so that you are satisfied and comfortable, and we can provide you with many more solutions to take your eyewear experience from "great" to "extraordinary."
---

How often should you buy a new pair of women's eyewear?
If your prescription changes, it's necessary to update your women's eyeglasses. Wearing an improper prescription can cause more damage to your vision and can lead to eye strain and other complications. We recommend getting your eyes checked once a year or whenever you notice significant changes in your vision. To ensure that your prescription is accurate, come see us at For Eyes for a comprehensive eye exam. We guarantee an excellent experience and quality care that you won't find elsewhere. Our eye care professionals are here to make sure that each encounter you have with us is pleasant and professional.


---
Need new women's eyeglasses?
Visit us at For Eyes today or visit our online store to browse the latest styles and extensive collection of designer looks. We can't wait to help you feel and look your best in your new pair of women's eyeglasses.